Since money is tight, and we're trying to limit trips to the grocery store, one thing I have been trying to do is maximize my ingredients! Prior to this situation, the few times I actually cooked, I was definitely wasteful with ingredients. I'd use what I needed for the recipe at hand and then the rest would go bad by the time I summoned the courage to cook again. But also wtf are you supposed to do with all that dill? Why is there always SO MUCH of it? Anyway..
For this recipe, we are using the arborio rice purchased for our avgolemono soup! Not that the rice goes bad but whatever, it was the inspiration for the meal. We were also able to use some canned tomatoes that we'd purchased in the canned-goods-panic-buy phase of this corona adventure!
Credit to Nick who was lead chef on this but I was an important helper!
Ingredients:
1 (28-ounce) can diced or whole tomatoes
4 cups (1 quart) chicken broth
1 tablespoon olive oil
1 pound uncooked sweet Italian sausage, casings removed
1 small yellow onion, diced
1 bunch asparagus (about 10 spears)
Salt and pepper
Red pepper flakes
2 cups arborio rice
1/2 cup dry white wine
1 cup grated Parmesan cheese, plus more for serving
1 tablespoon unsalted butter
1/2 cup loosely packed chopped fresh basil leaves
Step 0.5 (Meal Prep)
Cut the asparagus into diagonal pieces around 1-2 inches long (see below for a photo).
Also you can chop up the basil! I recruited Andrew to do that and he asked if I wanted it "finely chopped or chiffonade." Honey, you've seen me fail at oatmeal, do you think I know what chiffonade is? But yes, tonight I am a risotto princess and that is what I want!! Chiffonade looks like this apparently:
Step 1:
Pour the can of tomatoes (including all the juice) and chicken broth in a medium saucepan over low heat and keep it at a low simmer.
We used whole tomatoes — I like to squish them apart with my hands before putting them in the pan. You can use your stirring spoon to break them apart in the pan but my way makes me feel like an evil cartoon villain squashing my enemies, specifically these things from Little Mermaid:
Laugh maniacally, then proceed to step 2.
Step 2:
Heat the oil in a large, high-sided sauté pan or Dutch oven (lol) over medium heat until simmering. Crumble the sausage into the pan and cook, breaking up any large pieces and stirring occasionally, until the meat is cooked through — this will take about 10 minutes.
Step 3:
I would start the asparagus now because once you start soupin' up the rissoto, it is game on and you WILL NEVER STOP STIRRING.
Add some olive oil to a pan and sauté the asparagus. You can also add some red pepper flakes for a little heat! I didn't really note how long it took to cook this so umm just turn off the burner when it's starting to soften — you'll add it to the risotto a little later.
Step 4:
After it's cooked for about 10 minutes and it looks done (it's started to brown) transfer the sausage to a plate on the side. Drain all but 1-2 tablespoons of fat from the pan.
Step 5:
Add the onions, salt and pepper and sauté for about 5 minutes until the onions are starting to soften. Add the rice and stir until it's all coated with the fat/oil. Continue stirring the rice for about 2 minutes.
Step 6:
Pour wine into the pan and simmer, stirring constantly, until the rice has soaked up all the wine — like me at a wedding!
We used Nobilo Sauvignon Blanc — and drank the rest with dinner! I pick my wines by whatever is available in the fridge and in the $10.99 – 12.99 range. If you have suggestions for wines that are cheap and surprisingly good, please send them my way!
Begin incrementally adding the tomato/broth mixture about a half cup at a time, stirring constantly. Wait to add another ladle until the liquid has been almost completely absorbed by the rice.
Step 7:
Continue adding the tomato/broth until the rice is al dente and the broth is creamy. STIR CONSTANTLY. This is the at-home arm workout you have been waiting for. Stir like your life depends on it. Stir like RBG's life depends on it. Stay home and stay stirring!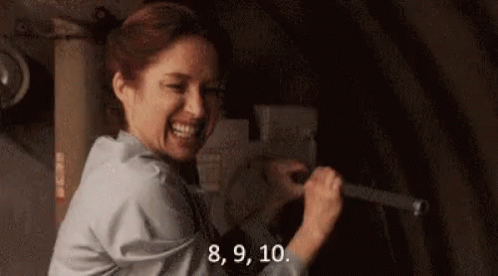 Begin tasting the rice after about 12 minutes to gauge how far it has cooked. The risotto is ready when the rice is al dente and the dish has the consistency of jambalaya — mmmm jambalaya. My favorite jambalaya is at Evangeline's in New Orleans. I'm not one to exaggerate (lol, yes I am) but it'll change your life.
Anyway it should take about 20 to 30 minutes total (you might not use up all of the tomato/broth) and should look like the shitty picture at the top of this page (underneath all that gorgeous CHIFFONADE, MOFOS).
Step 8:
Remove the dutch oven (hahahahaha) from the heat and stir in the Parmesan and butter until melted into the risotto. Stir in the reserved sausage, asparagus and basil. Taste and season with salt and pepper as needed. Serve and garnishing each bowl with additional grated Parmesan and fancy strips of basil.
Pairs well with:
Rango/crazy hat viewing party via Zoom
Here is the original recipe we used from The Kitchn — we just added asparagus for some extra veg 🙂