Guys, I made this one ALL BY MYSELF!!!*
*Ok, Nick came in for the alley-oop and mixed the butter/bread crumps to sprinkle on top. But other than that I did this PRETTY MUCH ALL BY MYSELF!
This is something I have been eating since I was a little kid so it's definitely a comfort food. And we could all use a little comfort right now!
My mom got the recipe from my aunt Ellen, who got the recipe from her mom Mary Hannigan.
Look how cute my mom's recipe cards are — she even credits where and when they came from! I love my mom. Please note that I changed the recipe a little bit to add more veggies 🙂
This is a picture of the OG Chicken and Wild Rice Casserole pioneers (left to right) Mary Hannigan, my cousin Maureen, and her mom Ellen
Ingredients:
Two x 6 oz packages of wild rice
2 cups of cooked chicken (I used one whole rotisserie chicken)
1 x 10.5 oz can cream of mushroom soup
About 10 oz of milk (just fill up the empty mushroom soup can with milk after you pour that in)
1 package of mushrooms (dealer's choice, I like baby bellas!), sliced and sauteed
2 green peppers, chopped and sauteed with the mushrooms (I actually used one green pepper and one orange pepper to make it colorful because I was wearing a rainbow sweater and felt like color-coordinating with my dinner)
2.5 cups of chicken broth
2 tbsp sherry
Panko breadcrumbs (about half a cup? I didn't really measure because this was Nick's part, whoops, it'll be enough to lightly cover the top of the casserole)
Butter (same as above, I'd say a couple tablespoons?)
Olive oil
Salt and pepper
Step 1:
Slice up your mushrooms, chop those peppers, and sautee both together in some olive oil (plus a little salt and pepper)
Step 2:
Mix the wild rice, chicken, mushroom soup, milk, peppers, mushrooms, broth and sherry in a bowl. Add a little more salt and pepper for good measure.
Once it's all mixed up (it should be a pretty soupy consistency, it'll thicken up when the rice cooks), spread it evenly into a 9×13 casserole dish. And with that, we're almost done! That's my kind of cooking!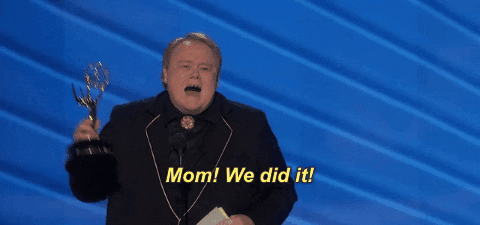 Step 3:
Melt some butter — a few tablespoons I'd guess.. Nick swooped in at this point and handled the butter/breadcrumbs part so I didn't get to eyeball how much he used. Mix the melted butter with about half a cup of breadcrumbs so they're all moistened. Then spread that over the top of the soup/chicken/rice mixture in the casserole dish.
Just a side note, for some reason instead of breadcrumbs I keep typing "breadcrumps" and now that I'm saying "breadcrumps" out loud to myself at my computer I'm giggling a lot and I wish that was their actual name 😦
Step 4:
Bake uncovered at 350 or until the breadcrumps breadcrumbs (what the actual sh!t, I just did it again) are golden brown
Pairs well with:
Ben & Jerry's Netflix & Chilll'd non-dairy frozen yogurt — even if you're an ice cream traditionalist and you're skeptical of non-dairy alternatives, just trust me on this one.